URL & Invites
REQUIRES: Manage Messages
Invite Filter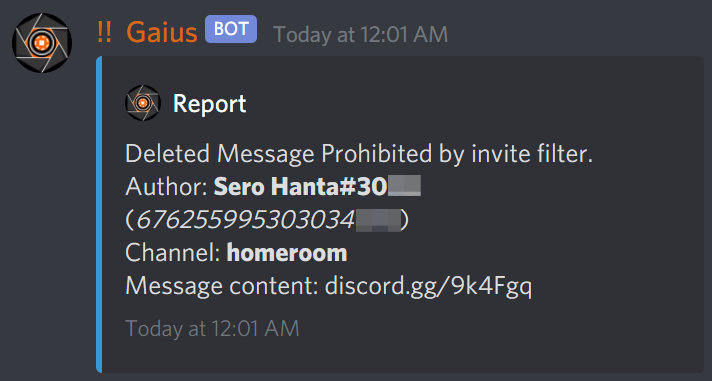 Filter invites in your community. For example: discord.gg/, discordapp.com/invite, etc.
Setup
Command
Description
!filter invite
Enable/Disable the invite filter.
!whitelist add invitelink
Allows that invite to be posted.
!whitelist rem invitelink
No longer allows that invite.
!whitelist list
Displays allowed links.
!filter ignore invite #OptionalChannel
Ignores invites in the channel again.
!filter recog invite #OptionalChannel
Filters invites in the channel again.
!filter ignore invert invite #OptionalChannel

Ignores invites in all channels except for the current or

mentioned channel.
URL Filter
Filter all HTTP and HTTPS links in your server.
Setup
| | |
| --- | --- |
| Command | Description |
| !filter URL | Enable/Disable the URL filter. |
| !whitelist add link | Allows that link to be posted. |
| !whitelist rem link | No longer allows that link. |
| !whitelist list | Displays allowed links. |
| !filter ignore URL #OptionalChannel | Ignores URL's filter in the channel again. |
| !filter recog URL #OptionalChannel | Filters URL's in the channel again. |
| !filter ignore invert URL #OptionalChannel | Ignores URL's in all channels except for the current or mentioned channel. |